By Don Mohler
Dear Santa,
Okay Big Guy step away from the work bench and give the elves 15 minutes to grab a hot chocolate.  We need to talk.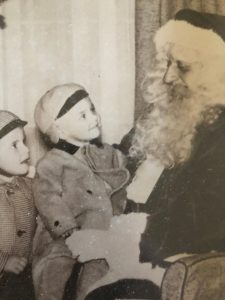 Sure we've made eye contact a few times over the past 40 years when you've listened intently to my children and grandchildren with wonder in their eyes.  And that was great, but I'm talking about you and me. I have fond memories of days gone by when my mother would drag my brother and me downtown to look at the department store windows before finding our way up the escalator to jump on your lap. Just think Ralphie from Christmas Story.
I see you're nodding. Glad to know that you remember it too. I know I'll never forget that year when Foto-Electric Football showed up under the tree. Mike and I would play for hours watching that light bulb illuminate our field while I placed my offensive play sheet over his defensive one and wait to see where the squiggly lines would intersect indicating a big gain or a tackle. I was Johnny U. He was the dreaded Sam Huff. It was a battle royal, it was pre-Madden, and it was magic. Right then and there I knew that you and I had a special thing going. But that was then, and this is now.
You see, Santa, we are in a pretty dark place in our nation this holiday season. Heck, truth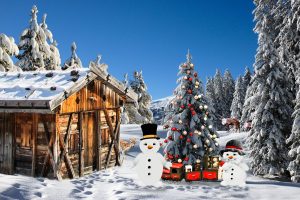 be told, we are in a pretty dark place all over the globe. If there was ever a time when we needed a little Christmas Magic, this is it.  And before you think that this might be an easy request to fill, hold on for just a second. It not as easy as just firing up the tried and true "Way-Back" machine to take us back to a simpler time. It is true that some of the things that happened back in the days of Hopalong Cassidy and Spin and Marty do indeed give us some warm and fuzzy moments. Some others? Not so much.
I know what you're thinking. From your vantage point at the North Pole you see millions of people wearing these red hats with MAGA emblazoned on the front- yes, those MAGA hats- the ones that say "Make America Great Again." And you think, we can spread some Christmas snow and boom it will be a done deal. After all the sled just has to make its way through the "seven lanes of the Candy Cane Forest through the sea of swirly gum drops," land the reindeer in Catonsville, turn back the clock, and move on to the next family on your list. Unfortunately, it's just not that easy.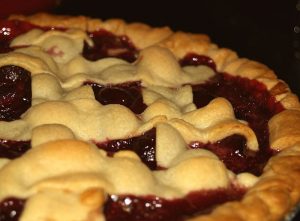 I agree that there were some really good things back in the day that I'd love to recapture. I loved Sunday dinners, and believe that we could all benefit by going to grandmom's house on a Sunday afternoon for some homemade fried chicken and cherry pie.  It would be really nice if we could actually talk to one another to see how the day went and really mean it. You know talk, not text. And as you know, when I was writing you letters while struggling with cursive, we had Walter Cronkite and Huntley and Brinkley with our TV Dinners.  Families didn't always agree about what our leaders should do, but they did agree on one set of facts. I know, sounds crazy, huh?
And wouldn't it be something if there was only one television in each home so that we could actually sit together after dinner and not cordon ourselves off behind closed doors? And if we want to really get crazy, maybe we could actually turn off the television and read a book. I know that one's a stretch. Heck, you are Santa, not Superman.
But Santa, here's the catch. You can't just "way-back" us to a kinder, and gentler time, because not all of the stuff that the MAGA folks remember was all that great. I see by the twinkle in your eye that you get it. You were there.  It is all coming back to you now.
As a ten-year old boy I loved the roller coaster and the merry go round at Gwynn Oak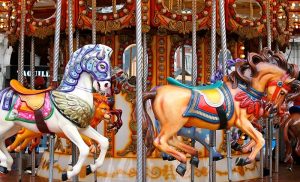 Amusement Park, and I looked forward to spending my summers at Five Oaks Swimming Pool. But guess what Santa?  My African American friends were on the outside looking in because they weren't allowed in to eat cotton candy or visit the fun house. They couldn't be terrified by the high dive. And the worst part?  I didn't even notice. Shame on me. Heck Santa, African Americans couldn't grab a burger and a shake at the local lunch counter and in many places they couldn't even vote.
And gay friends and relatives (yes, although some would disagree, we all had gay friends and relatives) were locked in the deepest of closets because they wouldn't even think of being honest about their sexuality. Getting married to the love of their life? Forget it. I know, it seems nuts. And my mom of course was a nurse because every woman was a nurse, a teacher, an airline stewardess or a secretary. That about summed it up. Big dreams and career success? That was a man's world. I know that Mrs. Claus has always been a key cog in the Santa wheel and has full reign over the workshop, but you guys are the exception, not the rule.
It's okay Santa. I tear up when I think about the way we were as well. It's a pretty ugly past.
So Santa, here's the ask: if you can help us reconnect with our neighbors in a meaningful way that allows us to celebrate our shared journey, that would be terrific. If you can knock down walls and allow us to walk in each other's shoes, that's a bonus. If you can help us understand that just because we like to go to church on
Sunday, that doesn't mean everyone else has to feel the same way. It's actually okay to not believe. And if you can help us all understand that decency and honesty still matter today even more than some strange cult of personality, then I'll have a Foto-Electric Football kind of Christmas morning.
Well, I know you have to get back to work;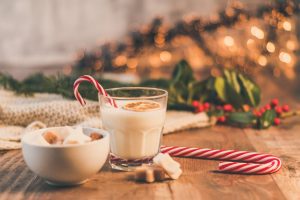 the clock is ticking. And in case you're wondering, of course there will be cookies and eggnog on the counter with some carrots for Rudolf as well on Christmas Eve.
Merry Christmas Santa.
Don Mohler is the former Baltimore County Executive and President and CEO of Mohler Communication Strategies. He may be reached at don@donmohler.com.
Subscribe
Enter your email to receive updates for new articles.