Editor's Note: Last week following the inauguration of Maryland Governor Westley Watende Omari Moore, Damian O'Doherty, founding partner of KO Public Affairs, stopped by the "Front Porch" to reflect on the moment. It was a heartwarming discussion.
By Damian O'Doherty
I took this photo when James Moore first saw his dad's first campaign ad. Nearby, Dawn Moore, Maryland's future First Lady, shared one of her signature hugs along the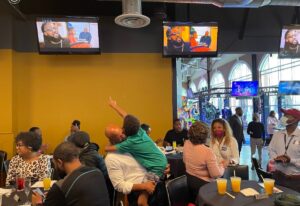 campaign trail.
It was October 11, 2021, and I had traveled alone for 1,7000 miles to watch the opening of the Governor's campaign office in Prince George's County. We make these journeys because "showing up" is rule #1 in politics. Moreover, I wanted to back up our Baltimore candidate as he dove into the deep waters of Prince George's County.
I've been to a few campaign launches. Often, this is the first time you get to see the family on the trail. Families and spouses interact differently. Sometimes, they are distant or sometimes they are spokespeople for a shy candidate. This was different. The Moore Family was all-in this together as one.  They are a unit. Wes Moore didn't need any Baltimore pals or hangers-on like me. So, I just pulled out my phone and started taking photos. I was smiling the whole time like a batboy watching last year's Orioles from the on-deck circle.
I never saw a family so together for a purpose beyond themselves – especially so early in the campaign. The power of Wes and Dawn became plain to me yet again.
You see, Wes and Dawn Moore are naturals with people. "It's almost too good to be true," I always thought with Wes.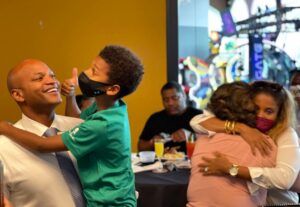 A west sider might call this a "THURGOOD" situation. Is the candidate "too good to be true" or is he "Thurgood," a Baltimore man, like Justice Marshall, going to the highest places and taking everyone along with him. And this is probably the 4th time in my following of Wes that I had that "Too Good" or "Thurgood" question about him. Whether it was introductions from first friends, Colm O'Comartun or Zachary McDaniels, in all my interactions the future Governor blew me away with his presence and intention.
So, in Baltimore, we check-in on our feelings. Every time I had the" too good/Thurgood" query, I would call up his Hopkins classmate and campus-wide service campaign co-chair Mary Pohl (pictured below with my partner Alycia). I would call or text, "I met your Blue Jay again. He's so awesome."  And then I would always catch myself, "But, maybe he's too good to be true."  I mean, Mary is an authority figure. She wasn't just a college pal, she is a serious health care policy leader, living on the West Side of Baltimore. She was the Deputy Director of the State's Hospital Commission.
"That's him, Damian," Mary would say. "He's the real deal." This would happen again over the years because Wes kept getting more interesting, more serious about service, and more intent about Maryland. Wes would floor me every time, just like he and Dawn floor you, today. Every time, Mary would tell me a college service days story that would prove that we have the most rare situation on "My West Side – a Thurgood situation!"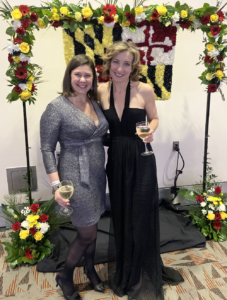 During Inaugural Week, my partner Alycia took her 1,700 mile trip, 15 months later, to meet Mary to go to The People's Ball celebrating the inauguration of Wes Moore and Aruna Miller. Congratulations to all of you, Maryland.
Damian O'Doherty is a founding partner of KO Public Affairs. He may be reached at DO@kopublicaffairs.com
Subscribe
Enter your email to receive updates for new articles.