By Don Mohler
In his documentaries, Ken Burns often reminds us that it is the actual words of those who were present that create the most powerful historical records. With that in mind, this is a special edition of the "Front Porch," commemorating a horrific day in American history – January 6, 2021.
"One of these things is not like the others. One of these things just doesn't belong. Can you tell which thing is not like the others, by the time I finish my song?"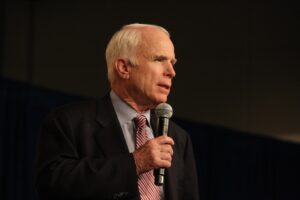 Senator John McCain, November 5, 2008
My friends, we have come to the end of a long journey. The American people have spoken, and they have spoken clearly. A little while ago, I had the honor of calling Senator Barack Obama to congratulate him…
Let there be no reason now for any American to fail to cherish their citizenship in this the greatest nation on earth. Senator Obama has achieved a great thing for himself and for his country. I applaud him for it and offer him my sincere sympathy that his beloved grandmother did not live to see this day, though our faith assures us she is at rest in the presence of her Creator, and so very proud of the good man she helped raise. Senator Obama and I have had and argued our differences, and he has prevailed. No doubt many of those differences remain. These are difficult times for our country, and I pledge to him tonight to do all in my power to help him lead us through the many challenges we face….
I urge all Americans who supported me to join me in not just congratulating him, but offering our next president our goodwill and earnest effort to find ways to come together to find the necessary compromises to bridge our differences and help restore our prosperity….
Senator Mitt Romney, November 7, 2012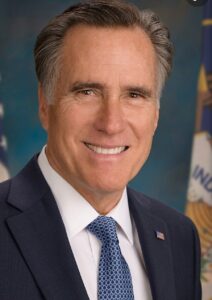 I have just called President Obama to congratulate him on his victory. His supporters and his campaign also deserve congratulations. I wish all of them well, but particularly the president, the first lady and their daughters. (Applause.) This is a time of great challenges for America, and I pray that the president will be successful in guiding our nation…
The nation, as you know, is at a critical point. At a time like this, we can't risk partisan bickering and political posturing. Our leaders have to reach across the aisle to do the people's work. And we citizens also have to rise to the occasion. We look to our teachers and professors. We count on you not just to teach, but to inspire our children with a passion for learning and discovery…
We look to our pastors and priests and rabbis and counselors of all kinds to testify of the enduring principles upon which our society is built — honesty, charity, integrity and family. We look to our parents, for in the final analysis, everything depends on the success of our homes. We look to job creators of all kinds. We're counting on you to invest, to hire, to step forward. And we look to Democrats and Republicans in government at all levels to put the people before the politics. I believe in America. I believe in the people of America…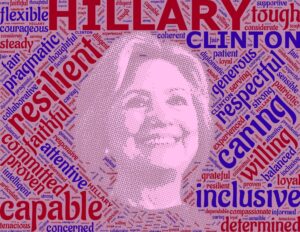 Secretary Hillary Clinton, November 9, 2016
Last night, I congratulated Donald Trump and offered to work with him on behalf of our country. I hope that he will be a successful president for all Americans. This is not the outcome we wanted or we worked so hard for and I'm sorry that we did not win this election for the values we share and the vision we hold for our country…
I know how disappointed you feel because I feel it too, and so do tens of millions of Americans who invested their hopes and dreams in this effort. This is painful and it will be for a long time, but I want you to remember this. Our campaign was never about one person or even one election, it was about the country we love and about building an America that's hopeful, inclusive and big-hearted…
We have seen that our nation is more deeply divided than we thought. But I still believe in America and I always will. And if you do, then we must accept this result and then look to the future. Donald Trump is going to be our president. We owe him an open mind and the chance to lead…
Our constitutional democracy enshrines the peaceful transfer of power and we don't just respect that, we cherish it. It also enshrines other things; the rule of law, the principle that we are all equal in rights and dignity, freedom of worship and expression. We respect and cherish these values too and we must defend them…
Finally, I am so grateful for our country and for all it has given to me. I count my blessings every single day that I am an American. And I still believe as deeply as I ever have that if we stand together and work together with respect for our differences, strength in our convictions and love for this nation, our best days are still ahead of us…
Because, you know – you know, I believe we are stronger together and we will go forward together. And you should never, ever regret fighting for that. You know, scripture tells us, "Let us not grow weary in doing good, for in due season, we shall reap if we do not lose heart." So my friends, let us have faith in each other, let us not grow weary, let us not lose heart, for there are more seasons to come. And there is more work to do…
I am incredibly honored and grateful to have had this chance to represent all of you in this consequential election. May God bless you and may God bless the United States of America.
Donald J. Trump, January 6, 2021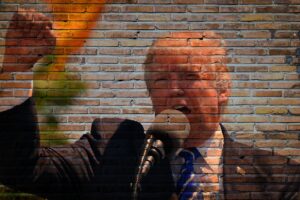 We have hundreds of thousands of people here and I just want them to be recognized by the fake news media. Turn your cameras please and show what's really happening out here because these people are not going to take it any longer. They're not going to take it any longer. Go ahead. Turn your cameras, please. Would you show? They came from all over the world, actually, but they came from all over our country…
Big tech is now coming into their own. We beat them four years ago. We surprised them. We took them by surprise and this year they rigged an election. They rigged it like they've never rigged an election before. And by the way, last night they didn't do a bad job either if you notice…
All of us here today do not want to see our election victory stolen by emboldened radical-left Democrats, which is what they're doing. And stolen by the fake news media. That's what they've done and what they're doing. We will never give up, we will never concede. It doesn't happen. You don't concede when there's theft involved.
And by the way, does anybody believe that Joe had 80 million votes? Does anybody believe that? He had 80 million computer votes. It's a disgrace. There's never been anything like that. You could take third-world countries. Just take a look. Take third-world countries. Their elections are more honest than what we've been going through in this country. It's a disgrace. It's a disgrace…
But we look at the facts and our election was so corrupt that in the history of this country we've never seen anything like it. You can go all the way back…
Now, it is up to Congress to confront this egregious assault on our democracy. And after this, we're going to walk down, and I'll be there with you, we're going to walk down, we're going to walk down…
Anyone you want, but I think right here, we're going to walk down to the Capitol, and we're going to cheer on our brave senators and congressmen and women, and we're probably not going to be cheering so much for some of them…
Because you'll never take back our country with weakness. You have to show strength and you have to be strong. We have come to demand that Congress do the right thing and only count the electors who have been lawfully slated, lawfully slated…
So we're going to, we're going to walk down Pennsylvania Avenue. I love Pennsylvania Avenue…
"Did you guess which thing was not like the others? Did you guess which thing just doesn't belong? If you guessed that one is not like the others, then you are absolutely right." It's your nation. It's your democracy. You decide.
Don Mohler is the former Baltimore County Executive and President and CEO of Mohler Communication Strategies. He may be reached at don@donmohler.com.
Subscribe
Enter your email to receive updates for new articles.